Isn't open plan working great? The whole team is together, there's a buzz in the office and the increased collaboration is such a perk. Or is it? Reports of the meeting room's death are greatly exaggerated and a private space to gather - informally or formally - is still an essential part of commercial interior design.
In fact, even in an era of hybrid and decentralised working, data from Coworker.com found global meeting room demand within flexible office space was up 73% in 2021, suggesting that even if workers are mainly home based, getting together remains a pivotal part of professional life.
In this article, we'll discuss the merits of good meeting room design, reveal the essential elements that will inspire meeting attendees and provide conference room design ideas for you to take away.
Why You Need A Well Designed Meeting or Conference Room
Are you an employer that expects magic to happen when you gather staff together? The chances are you could be harming imagination and creativity if your meeting room design is lacklustre.
A meeting room's decoration and fit out sets the tone for the meeting. If the space is sombre or fusty, it will immediately bring down the mood when employees step inside and will probably dampen enthusiasm too. At the other end of the spectrum, your business or meeting agenda will not be taken seriously if the conference room design is too quirky or erring on comical.
A well planned meeting or conference room - or even a number of different meeting spaces - will cater for every workplace eventually. Here's how a considered meeting room design can help your business:-
Solving problems
The phrase 'two heads are better than one' is super relevant in the workplace, and gathering people together is often the best way to find solutions to pressing problems. After all, shouting across an open plan floor or sending multiple emails just doesn't have the same effectiveness.
Collaboration
Meeting rooms have taken on a new role in the post-pandemic workplace and team meetings may be the only time when employees come into the office. A modern meeting room design will facilitate how meeting rooms are used today, with an equal emphasis on social gatherings and serious interactions.
Flexible meeting room designs
The best office meeting room design ideas don't pigeon hole meeting rooms as spaces that are used occasionally. With the right spec and design, meeting rooms can be used for a variety of purposes throughout the working day.
Providing privacy
Even in the age of agile and activity-based working, business owners need a private space to make important announcements or even deliver bad news. Staff also appreciate a space in which they can talk in privacy or work away from the main office hub.
A place to impress
Think about the people you may invite for a meeting: potential business partners, investors, key stakeholders and interviewees. A commercial fit out packed with fresh meeting room design ideas will make the right first - and lasting - impression among people you'd like to influence.
What Do You Need To Make The Most of Your Meeting Room?
If you want your meeting rooms to be a success, you need to understand their purpose. There are generally four different types of meeting rooms:-
General meeting rooms: used on a more casual basis for small gatherings and brainstorming exercises
Boardrooms: formal spaces that can seat large numbers of people - usually reserved for the most serious of discussions and when there are third-party guests
Conferencing rooms: spaces that need to accommodate audio visual equipment and usually need pre-booking
Pod meeting rooms: these can be self-contained, freestanding units that accommodate as few as two people
Once you know the main purpose of the meeting room, you can consider the meeting room design ideas that are offered by commercial refurbishment and shop interior design professionals.
Seating
If the centrepiece of your meeting room is a table, you'll want conventional office chairs. Ergonomics should not be overlooked as employees will disengage when they get uncomfortable. If the purpose of your meeting room is informal catch ups and collaborative tasks, one meeting room design idea is to dispense with formal furniture and opt for a collection of sofas and armchairs instead. In fact, you might not need any seating at all! Standing meetings have been proven to be quicker and more concise, and there's more info on how to conduct efficient meetings in our associated article.
Worksurfaces
There's nothing wrong with people sitting around a central table but a few specification shifts can determine the mood or image of a meeting room. The classic solid wood boardroom table is still the epitome of power. This style of table, however, won't work in more dynamic, collaborative spaces. Instead, consider desks on wheels that can be reconfigured to suit each meeting.
Refreshments
If your meetings are substantial in length, refreshments will become key in keeping the flow going and attendees focused. When designing one of the multiple meeting rooms at No. 5 The Heights, we included kitchen cabinet-style storage and a drinks prep area along one of the meeting room's walls.
Privacy
Modern meeting room design ideas recognise that some meetings require the utmost privacy. Although glass-walled meeting rooms are great for keeping attendees connected with the office, they're also very exposing. Blinds, curtains and vinyl decals can be specified to provide privacy.
Data, power & lighting
These elements, which are usually installed as part of a Cat A fit out, will influence the effectiveness of wall mounted screens, projectors and media facilities. Correct planning will ensure the lighting can be adjusted to reduce glare, the broadband is strong enough to facilitate video conferencing and there are no hazardous trailing power cables.
Meeting Room Wall Design Matters
If the purpose of your meetings is to share ideas, a team sitting down with notepads and pens misses the point. Clever meeting room wall design will help with participation and collaboration. Ideas to consider include one wall painted with chalkboard paint, an interactive digital whiteboard or a dry erase whiteboard - all immensely better than a freestanding flipchart.
Meeting room design themes
A meeting room doesn't have to be a bland space. Our work for Yoooserv in Reading saw us install a number of meeting rooms that were packed with character. From textured drop ceilings and biophilic elements to feature walls and panelling, MPL gave each room a distinctive look. Other meeting room trends that we expect to stay include urban touches (especially Crittall-detail glass partitions), focal-point ceiling pendants, and decadent colour schemes.
Examples of Meeting Room Successes
Our commercial refit for Cobalt illustrates how new internal partitions can create meeting rooms from cavernous open plan spaces. We also specified chairs upholstered in an electric blue fabric to reinforce the corporate identity and to inject colour into the space. Over at Lanes Infrastructure, the MPL team was tasked with creating a number of different meeting rooms, each with flush fit digital screens and feature walls. A recurring meeting room design idea at The Acorn Group's new headquarters was a timber slat detail. Using this wooden element throughout the commercial fitout gave a sense of design continuity.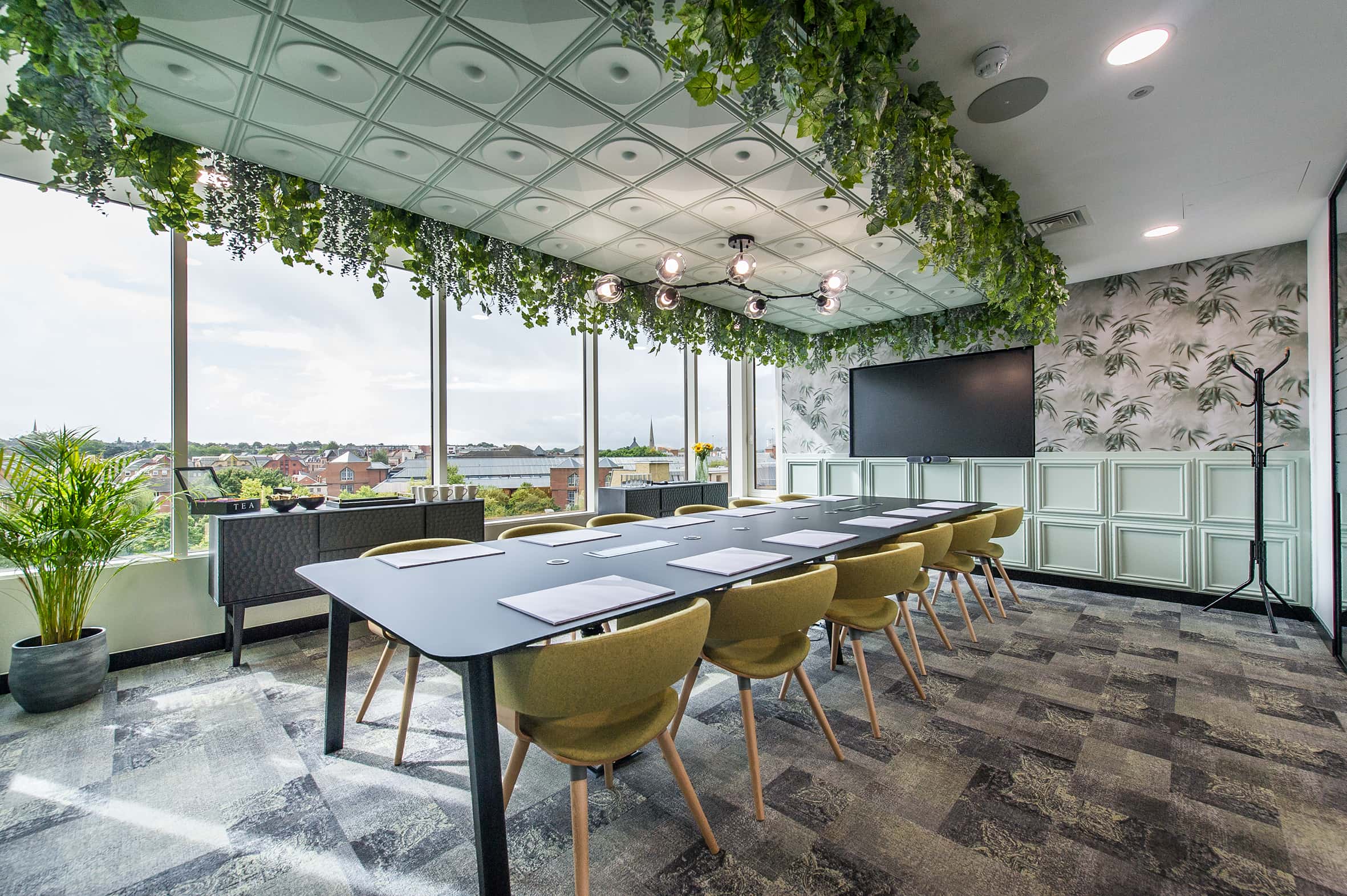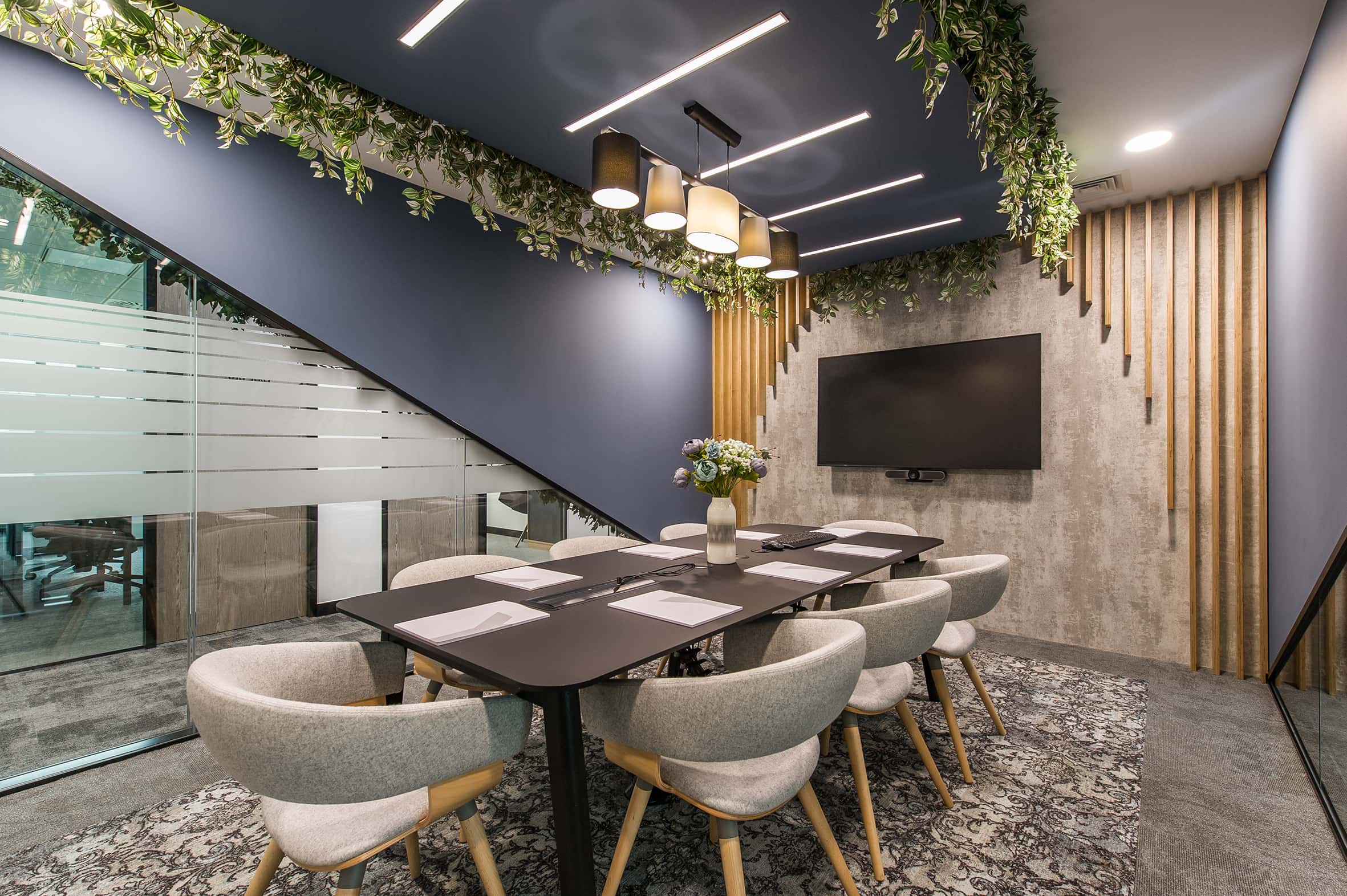 Modern meeting room design may surprise you as many business owners fall into the trap of thinking every meeting room needs to look like a boardroom. Meeting rooms can be a place for design personalities to be expressed, with colour, texture and pattern applied to inspire. If you'd like to know more about the commercial refurbishments and shop fit outs by MPL, please get in touch.